Break Up
Season One, Arc One, Episode Seven
Air date
March 30, 2012
Written by
Jgal12
Episode Guide
Previous
Spying
Next
Popularity
Break Up
is the seventh episode to
Season One
of Glee: The Unitards.
After Tommy and June's break interest, Tommy sets off to find a new girlfriend, and June admits her feelings for someone. Meanwhile, Carlton meets a past-time fried named Lilly Penelope (played by Hannah from The Glee Project, season one), who in the past, had a massive crush on him. He asks whether she still loves him and she says yes and is upset to be reminded he's gay. Also, someone is kicked off The Super Girls by Miss Ellis, after accidentally knocking the human pyramid over, tumbling to the ground in practice.
Script Link
Edit
Click here to read the full script.
Main Cast
Edit
Present
Guest Cast
Edit
Guest Starring:
Despite the episode title being "Break Up", Harmony and Terri got back together. This could have been because there was still Tommy and June breaking up, and the previous off-screen "break up" between Carlton and Lilly, because Carlton was gay. The episode focuses more on the afterthoughts of a break up, rather than the break up itself.
Song Covers
Edit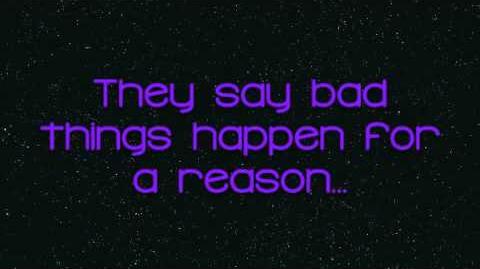 Episode Navigation
Season One
In The Beginning • Smooth Criminal • Preparation Begins • I Kissed a Girl • When Alcohol Is Involved • Spying
Break Up • Popularity • A Win? • One Will Always Follow • Duets, Part 1 • Duets, Part 2 • The Bright Lights
Be Strong • This Is Who I Am • He's The Wizard • Auditions, Part 1 • Auditions, Part 2 • Reunited • Forgotten
Almost There • We're Here! • Christmas Time is Here • Promalicious • If We Ever Meet Again

Season Two
Everybody's Changing
•
No Matter How Hard You Try, I'll Always Belong In The Sky
Disney, Magic Gone Tragic
•
Disney, A Spell From Hell
•
Duet With Me
•
Mash Me Up
Dreading the Wedding
•
The One That Got Away
•
We All Need Love, Heart 1
•
We All Need Love, Heart 2
I Am A Champion
•
Musical Mayhem
•
Goodbye
•
The Rally
•
I'm Living Dead
•
Demi
•
Blow Me a Bubble
Tell Me That You Love Me
•
Truly Scrumptious
•
Be True To Who You Are
Dauntless Dreams and Rotten Realities
•
2x19
•
2x20
•
2x21.1
•
2x21.2
Goodbyes to the Past, Hellos to the Future